Press
Wakam and "Marion la main tendue" launch Kolibri, the unique counter against the risks of school bullying and cyberbullying
7 July 2021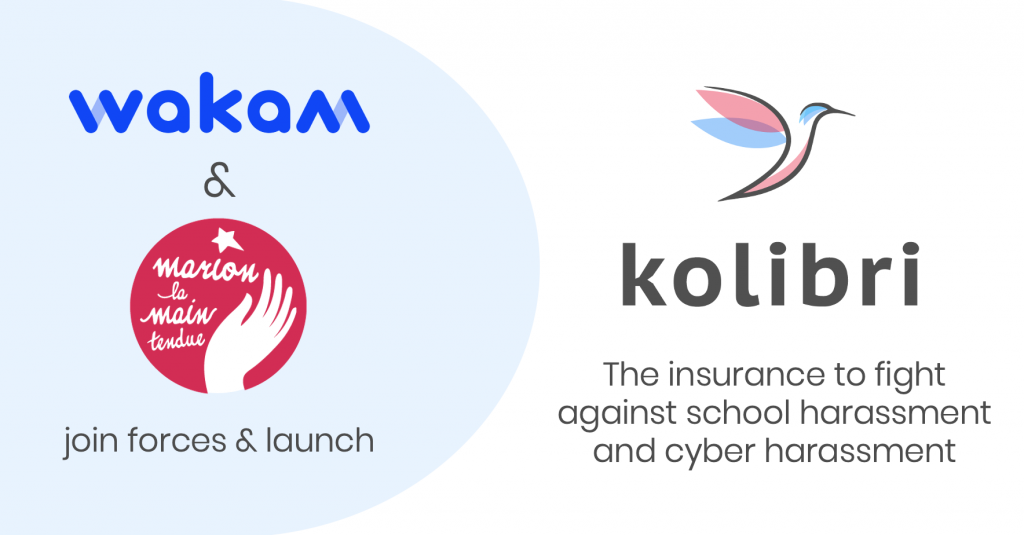 The school year is coming to an end, marked by successive lockdowns and an increase in cyber-violence with sometimes dramatic consequences for our children. This year again, harassment will not take a vacation. During the confinements, the violence will be deported on social networks. Also, on this first day of the school vacation, the association Marion la main tendue and the insurer Wakam are launching the Kolibri insurance, which provides the only unique counter for victims of school bullying.
School bullying and cyberbullying, a widespread phenomenon
Nearly 1 in 2 French people (41%) say they have been repeatedly subjected to some form of violence over a long period of time, either at school (mostly at college) or outside of school, and 2/3 of those surveyed say they have been victims of cyberbullying, according to the Ifop barometer conducted in January 2021*. 35% of victims of bullying at school consider that they are still suffering from psychological consequences, with suicidal thoughts or experiences, a figure that reaches 67% among victims of bullying on social networks. Moreover, school bullying is still too often kept silent by the victims themselves: 52% did not talk about it out of fear, shame and/or spite. By extending the violence outside the school, cyberbullying further blurs spatial and temporal boundaries.
Kolibri, the civic and solidarity insurance solution
Faced with the importance of this phenomenon, the Association Marion la main tendue, which acts for the prevention and the fight against violence and harassment in schools as well as cyber-violence, launches, with the help of Wakam, the Kolibri insurance to protect the victims. It has been designed to meet the needs of French people (children, parents, but also the pedagogical community) in terms of protection against harassment. In accordance with its commitment to solidarity, the insurer Wakam, partner of the association, has created this solution without any margin and will pay back 1.5 € on each insurance policy taken out to open new Marion's Houses. These structures are dedicated to the reception, care and support of victims of school bullying, their families and the educational community.
The Kolibri protection, to fight against school bullying and cyberbullying
The Kolibri global solution goes beyond the services included in traditional school and home insurance. It is subscribed independently, without any obligation of additional subscription. For €18 per year and per child (from 3 years old), it includes:
A dedicated platform: 70 people mobilized throughout the year to welcome and guide families;
Legal protection: coverage of legal fees up to 1000 €;
Dedicated therapeutic support: coverage of the costs of 10 sessions with psychologists, sophrologists and nutritionists, up to €60 per session;
School protection: coverage of the cost of home lessons for children suffering from school phobia up to €1,800;
The e-reputation shield: assistance in cleaning up social networks up to 1000 €.
"Kolibri is the outcome of many years of work. Wakam's support has made it possible to create a unique insurance solution for victims of school bullying and cyberbullying at a minimal cost to families. A strong action in the fight against school and social determinism."

Nora Fraisse, founder of the Association Marion la main tendue.
"Wakam, by supporting the association Marion la main tendue at cost price without any profit margin, makes tangible its mission to positively impact the society. For us, this is a true social commitment. We are convinced that insurers have a role to play in changing the rules and Kolibri insurance is a perfect example.

Olivier Jaillon, Chief Executive & Enablement Officer of Wakam.
To know more about the insurance: kolibri-assurances.com
Léna Ansari
Communication Lead