Team
Wakam Inside: Antoine David
Each month we give the floor to the Wakamees who make the company and work daily to enable impactful and transparent insurance.
8 September 2020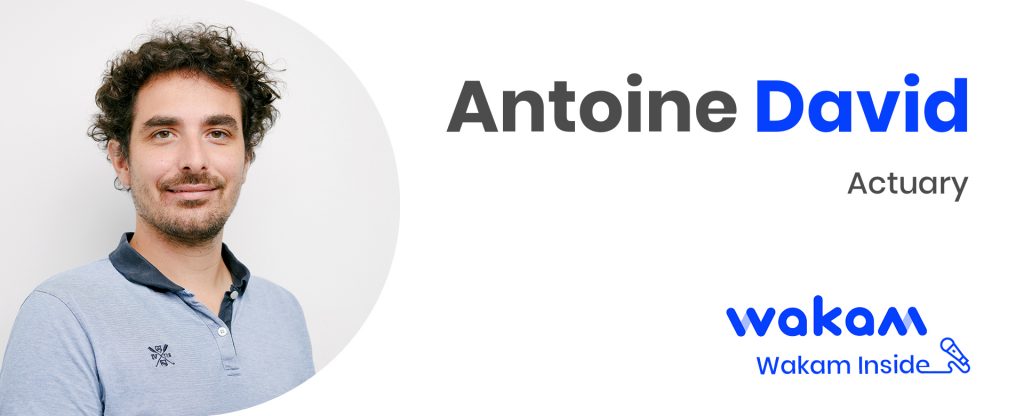 Let's meet Antoine who joined Wakam in 2016 while still living abroad. Even before the explosion of Zoom or Hangout, Antoine went through the hiring process remotely. He tells us about his daily life at Wakam and also a little more about himself, his dreams and his desires.
Hello, can you introduce yourself?
Hello, my name is Antoine David and I come from the beautiful city of Angers ! I worked and lived for 7 years in Brazil and then in Portugal.
Following these experiences abroad, I wanted to come back to France and joined Wakam's technical teams in 2016. At this time the company were in the process of restructuring its operation.
You joined Wakam in 2016, what were the reasons?
There was an alignment of the planets, I would say. I was still abroad and wanted to return to France. On the other hand, I didn't want to join a big group. I had already had experience with a large company and didn't want to be among 3000 people in suits and ties. I wasn't interested. Wakam's size and the atmosphere suited me a lot.
I have mainly worked in human-sized and fast-growing companies.
I was attracted by the fact that it was a job creation in Paris. Before that, actuarial work was outsourced. When I saw the office and met the people I was going to work with, I have been immediately attracted by the job. We were really in a very dynamic atmosphere.
You're an actuary, what does that mean exactly?
Well, it's a job that is very specific to the insurance sector.
In fact, it's a small mafia that we created to guarantee ourselves a permanent job! (laughs)
But otherwise, the actuary does risk calculations and tries to predict the future. When you are an insurer you sell insurance products for which you are going to have claims. Our job as an actuary is to predict potential claims so that the company can control its financial risks.
The mantra of actuarial science is "the future is no longer what it used to be", in fact we constantly recalculated the future.
If you had to explain your job to a three years old kid?
I am trying to predict the future but I am always wrong!
A typical day at Wakam is…
To be honest, I don't really have a typical day. You are dealing with a lot of subjects you have to be very flexible because priorities can change very quickly! I think that's the hallmark of companies with strong growth, where everything always goes very fast.
But in general, I retrieve data, check if the data are correct and set up projections so that I can present the results to the partners. If there are deviations in the projections, I also put in place an action plan to correct them. But it's not only "work, work", around that there are also informal moments of exchange with my colleagues!
What are you working on right now?
Right now I'm working on data for an Insurtech that is shaking up the insurance market. This is a very innovative startup which is taking off and that we have to accompany from a technical point of view.
My job is to follow its technical results to make sure they are in line with our expectation but without restricting the teams and preventing them from being creative.
What I really like about this partnership is that we have set up a redistribution system with them. When a customer signs his/her contract, the insured person chooses an NGO that he/she wishes to support financially. In case of overpayment, it is not the insurer or the broker who benefit from the good results, but the money is redistributed to this association.
I really enjoy working on this partnership because they're looking for ways to break down the old-fashioned image we can have of the insurance sector.
What do you think about the insurance sector?
I think it needs to be dusted off and made more understandable to people! Insurance is still a somewhat complex, strange and expensive product that everyone uses. And yet people have no idea what they are buying. This opens the door to problematic behaviors where people buy products without really understanding why they are covered, which can create frustration when they have a claim.
We should all have a "conscious consumer" logic: what am I buying? What am I buying? Why? What's it going to do for me? Do I need it?
I enjoy working with insurtechs that offer innovative and digital products. They speak better to the new generation, who I hope will be more interested in what they buy and will better understand why they are covered. And I find this approach of redistributing wealth (see previous question) not to shareholders but to NGOs is a good step towards creating a relationship of trust.
Can you tell me something you did at Wakam that you are very proud of?
It's not link to a project but more to state of mind: this is the team spirit we succeeded to create at the office.
We have a very horizontal organization. There is no middle manager when it is not necessary, this is something I have seen in other companies.
It's more empowering and fulfilling.

Today we are seven (and almost 9, we are hiring!) and we have created a very strong team spirit: the relations are direct, honest and everyone works (a lot) but together.
If you could change one thing at the office…
So, I don't know if I can say it but… I'd better isolate the Bespoke room because I work next door and I admit it's quite noisy!
Mmmh "Bespoke"…?
So it's an internal methodology that we created 4 years ago in order to create customized insurance products with a time-to-market of a few weeks.
We have divided our way of working with our partners into 4 phases (Seek, Qualify, Achieve and Develop) during which different Squads are involved (business, product, actuarial, etc.).
If you had to describe the Wakam culture in one word, what would you say?
I can't say it one word. But I can do it in three: simplicity and high standards
Simplicity, because people and relationships are simple and straightforward.
High standards, because we all work hard and we always try to do better than before.
If tomorrow you could change job, what would you do?
So it's actually changing a little bit every day. At the moment it would be to have a guest house with my wife with a restored house and a vegetable garden. I think it's the effect of being confined in our apartment.
Tomorrow I might want to do some land development or turnaround companies in difficulty. But for the moment, I like my current job!
If you could switch places with someone for a day?
I would like to be M (one of the best guitarists in France) for a concert! I won't necessarily play his discography but I would love to see what it's like to be able to play whatever you want as well as you want!
The first thing you do when you arrive at the office?
First, I check my Slacks and emails. Then I write my to do list for the day. After that I am going to drink coffee. When I work from home, it's the same ritual but I am bare foot and in shorts. (laughs)
Your best place to eat near the office?
So I have two restaurants I love that are really not far from the office!
For the small budgets there is a Kurdish restaurant located "rue des petits carreaux (Riha Durum). They are making amazing sandwiches (with meat, vegetarian, …) All the food is home made it's absolutely delicious!
And there is also a ramen restaurant "rue Richelieu" called Kodawari Ramen! The place is crazy, they rebuilt the used to be famous fish market of Tokyo.
Has anyone ever told you you look a lot like Tomer Sisley?
Yes, I've already been told. And to Vincent Elbaz too. I think it's my aquiline nose.
A word to conclude?
See you soon!