Press release
ManyPets and Wakam announce major partnership in the UK
13 December 2022
3 minutes
December 13th: Pet insurance provider and MGA, ManyPets UK, has today announced its partnership with European digital insurer, Wakam, as its new UK carrier.
Wakam, a European B2B2C insurance company with a global footprint spanning 32 countries, will underwrite all of ManyPets' UK policies from January 2023, whilst supporting the pet insurance provider with its commitment to customer experience and award-winning pet insurance policies.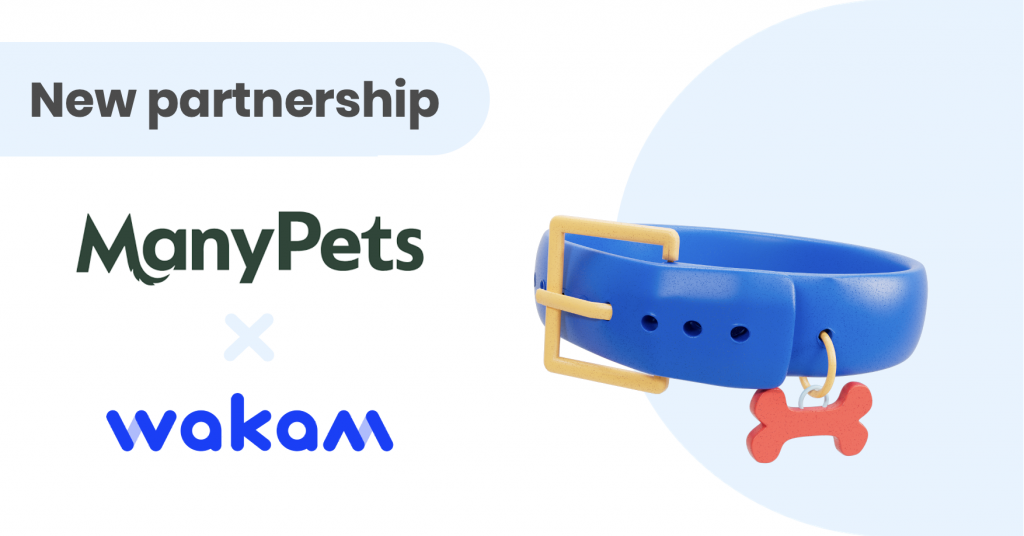 Both listed within the top 100 list of Insurtech companies in Europe, the new partnership with ManyPets sees Wakam enter the growing pet insurance market – estimated to be worth £1.6bn in the UK. ManyPets gained unicorn status following a $350 million Series D funding round in 2021, just five years after its launch into the pet insurance market and holds one of the largest pet portfolios in the UK, now insuring over half a million pets globally.
ManyPets launched into pet insurance in 2017 and is best known for introducing a market-leading insurance offer. A company of firsts, ManyPets was the first to launch cover for pre-existing issues, up to £15,000 of vet fee cover and free unlimited video calls direct with vets – and is passionate about providing quality insurance coverage to all pet parents. The insurance provider recently acquired VetBox, the flea, tick and worming subscription box as it expands into the pet wellness space.
Wakam provides digital and embedded insurance products to its more than 150 distribution partners in a B2B2C white label model. Wakam is a solid and profitable insurer, reporting a 24% average annual growth rate since 2017, with its 2021 turnover of €455m expected to exceed €600m in 2022. This major partnership gives Wakam the opportunity to accelerate its diversification by building its presence in the animal insurance market in the UK, in line with its international expansion strategy.
The partnership between two of Europe's fastest-growing companies in insurance comes as ManyPets continues its ambitious growth plans, most recently acquiring Digital Edge Insurance Company, a US-based carrier, from Munich Re Digital Partners US Holding Corporation, now known as Many Insurance Company. The acquisition enables ManyPets to underwrite its own policies as it continues its roll out in the US, marking almost two years since its launch into the market.
ManyPets will be supported by a panel of leading reinsurers, many of which continue to support as reinsurer and investor in ManyPets.

Steven Mendel, CEO and Co-founder of ManyPets, says: "We are thrilled to bring Wakam on board as our new UK carrier, during what is such an exciting time for ManyPets. It is fantastic to partner with such a forward thinking insurer, and one that aligns with our commitment to being a responsible (pet loving) business. We have ambitious plans to continue supporting even more pet parents with the very best pet insurance and health products as we head into 2023."
Olivier Jaillon, CEO and CPO of Wakam, says: "We are very pleased about this long-term partnership with ManyPets, which perfectly aligns with Wakam's development strategy. It was an evident choice for us to collaborate with ManyPets, a reliable partner that shares our strengths and values as a growing, digital, transparent, committed and ethical player. It allows us to step into the animal insurance market, which is booming in continental Europe today, and to further consolidate our presence in the United Kingdom."
—
About ManyPets // UK – US – SE
Meet ManyPets, the new name for Bought By Many. We love pets, which is why we're on a mission to make the world a better place for pets and their parents
We've helped keep half a million pets healthy and happy since 2017, and there are many reasons thousands of pet parents are joining us every day. Over the past few years we've won awards for our customer service and our product continues to lead the pack. We offer pet insurance policies with a range of pet health benefits that are designed to meet the needs of pets and pet parents.
Love every moment. Love ManyPets.
Press Contact
About Wakam
Wakam is a B2B2C insurance company that creates white-label insurance solutions via its Play&Plug® technology platform for more than 150 distribution partners and over 8 million policyholders. With a foothold in 32 countries and a 2021 turnover of €455 million, the majority of which was generated outside France, Wakam is the European leader in digital and embedded insurance. The company is profitable and has been growing rapidly for more than seven years. Strongly committed to social responsibility, Wakam is a mission-driven company dedicated to "enabling transparent and impactful insurance".
Press Contact : Brunswick, Aude Lepreux – + 33 7 84 46 10 66 – wakam@brunswickgroup.com