People
Wakam gets three ChooseMyCompany labels!
7 Dezember 2022
2 minutes
For the third year in a row, Wakam has been awarded labels by ChooseMyCompany, which recognizes the companies whose employees are the happiest.
HappyIndexAtWork Europe®
HappyIndexAtWork France®
TechAtWork® (focus on IT & Data teams)
This ranking is based on the HappyIndexAtWork® method following a survey conducted in October 2022 among Wakam employees.
The HappyIndexAtWork® 2023 survey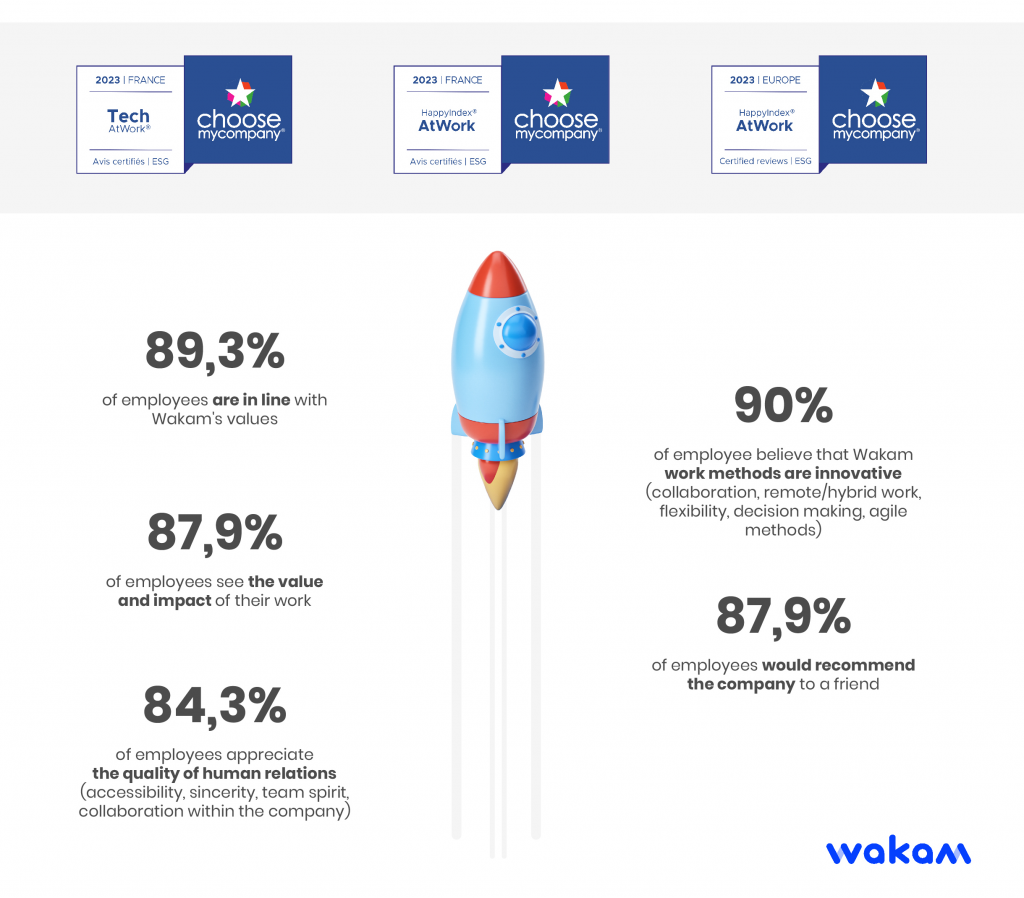 Focus on results
The well-being of our employees is a priority at Wakam and 88.6% of our employees enjoy coming to work.
For several years now, Wakam has been constantly transforming itself to allow its employees to work efficiently, whether at the office or remotely. This is a strong marker of the company's culture: "We work as we like from anywhere". Many employees work in full remote in France and abroad, in Germany, Italy and the United Kingdom. The survey shows that 90% of the employees consider that the working methods at Wakam are innovative.
In order to offer an ever more inspiring work environment to its employees, Wakam has perpetuated and reinforced its Free.day concept. "A day without meetings to get involved in sponsorship, listen to inspiring personalities share their experience, or do team building!"
As a mission-driven company, Wakam wanted to promote its social commitment. "We strive for fairness and impact". It is not for nothing that 87.9% of employees perceive the usefulness and impact of their work.
87.9% of our Wakamees would recommend Wakam to a friend or colleague, this rising recommendation rate makes Wakam proud!
Wakam, the ideal company for all those who have the "Free to impact" mindset. Who wish to invest in a culture where everything is possible, where all ideas are considered, where everyone has an impact on the transformation of insurance! Join the Wakam adventure