Case study
Wetterheld: Parametric weather insurance for responsible entrepreneurs
Each month, we give the floor to one of our partners which, like us, want to shape the insurance sector.
9 Settembre 2021
7 minutes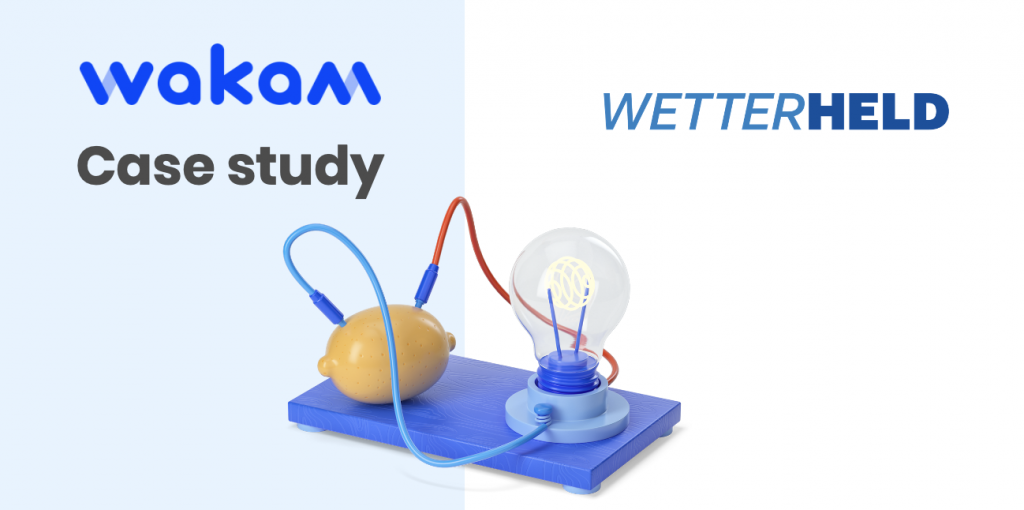 This month we sat down with Nikolaus Haufler, CEO and co-founder of the German insurtech Wetterheld, which specializes in parametric insurance against extreme weather risks.
Could you tell me more about you and Wetterheld?
I spent 5 years working as a consultant in the banking industry. It was during this time that I got the idea to start Wetterheld. I spoke with many clients who were organizing festivals, concerts, or other large outdoor events. Many of them were complaining about the rain and bad weather, but none of them had taken out insurance, simply because it didn't exist!
This is where Nikolaus and his brother decide to think about how to insure small and medium-sized businesses against bad weather by offering a solution that can be accessed online and in real-time.
In 2019, Nikolaus decides to quit his job to become the first employee of Wetterheld. He will be followed a few months later by his brother. Today, the insurtech has more than ten employees.
What challenges did you face at the beginning of Wetterheld?
It turned out that meeting customers and pitching our idea to them was more difficult than we thought. When you just have an idea, it's complicated to take time from busy people without bringing a real added value. Still, we managed to talk to people from different sectors (events, food, agriculture…) to get feedback and especially to improve our value proposition.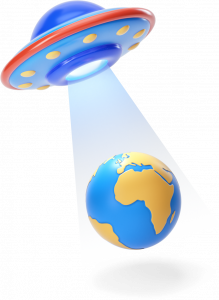 But we also realized that we couldn't just offer rain insurance for outdoor events or restaurant owners. We also had to create drought insurance for farmers. This new pain point was not covered by traditional insurance either. But before we started, it was again very important for us to collect customer feedback.
In November 2019, we won a booth at a major agricultural trade show in Germany.
For six days, we were able to talk with farmers about our idea of drought insurance. We received a lot of positive feedback on it.
In fact, the year before, farmers had experienced a severe drought in Germany, and they could relate to that. From a risk point of view our two products* fit together perfectly: you either have drought or rain!
(drought insurance for farmers and rain insurance for outdoor event organizers*)
What are the pain points among farmers that you wanted to solve with your insurance?
For farmers it is very simple: 90% of the time they will have a normal year and a normal yield. But there may be periods of drought during a crucial time that occurs 4 to 6 weeks a year: the vegetation period. If the crops do not get enough water during this time of the year, farmers can lose part of them and therefore part of their income! This makes it difficult for them to pay their bills, their credits or even their employees.
These are sometimes small farms that do not always have the means to have sufficient cash flow to make up for this lack. It is this problem that we are trying to solve from a financial point of view. This is this issue we want to address with our insurance from a financial point of view. But I think we also help them from a psychological point of view, the fact of knowing that they will receive financial compensation in case of drought takes a weight off their shoulders.
And for event organizers or restaurant owners?
They put a lot of time and energy into planning an event where people can have a good time with music, food, etc. But if it rains for one or more days, people will enjoy it less and therefore spend less. The organizers might not be able to get their money back! It is the same principle for the restaurant owners to whom the insurance is also addressed. If they can't open their terraces in summer because of the rain. It is always this same financial and psychological risk that we want to cover.
Can you tell us more about the drought insurance we have developed together?
The process is quite simple and intuitive! All you have to do is go to our website. Let's take the example of a farmer who wants to insure his crops against drought. He clicks on "Insure against drought".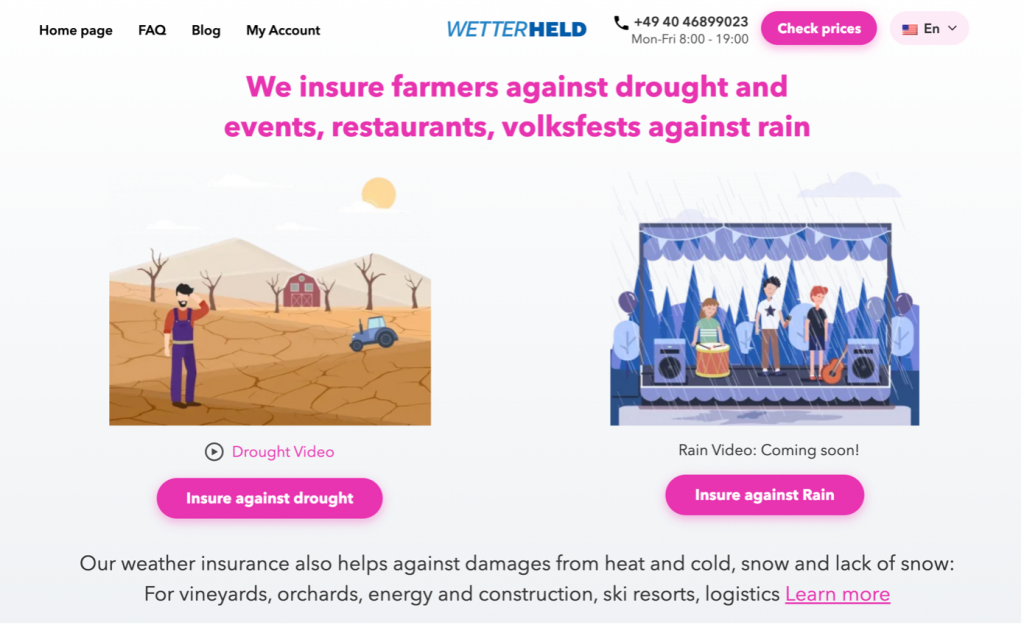 Then he chooses the most important crop he owns and wants to insure: for example, potatoes. He chooses the date he wants to insure and for how many days.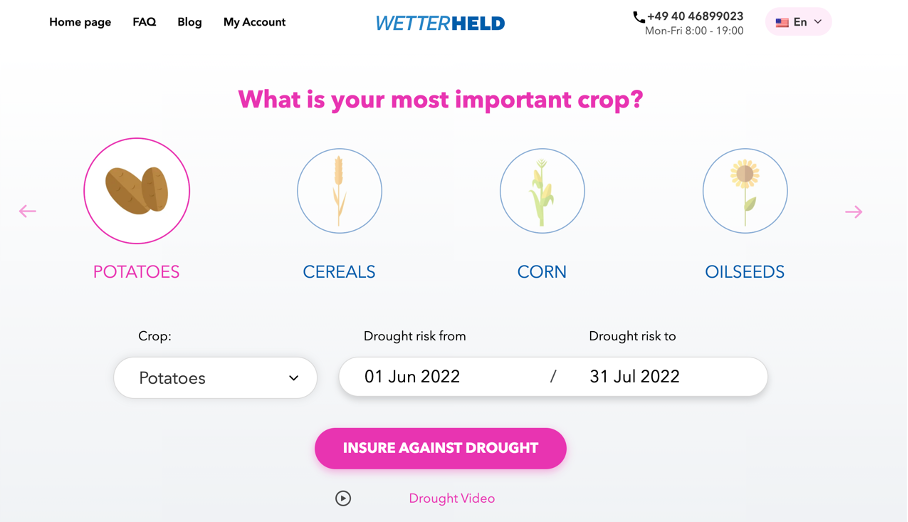 He must enter the address of his farm and validate the weather station closest to his home. This point is very important because the payment of his claim will depend on the measurements made by this station.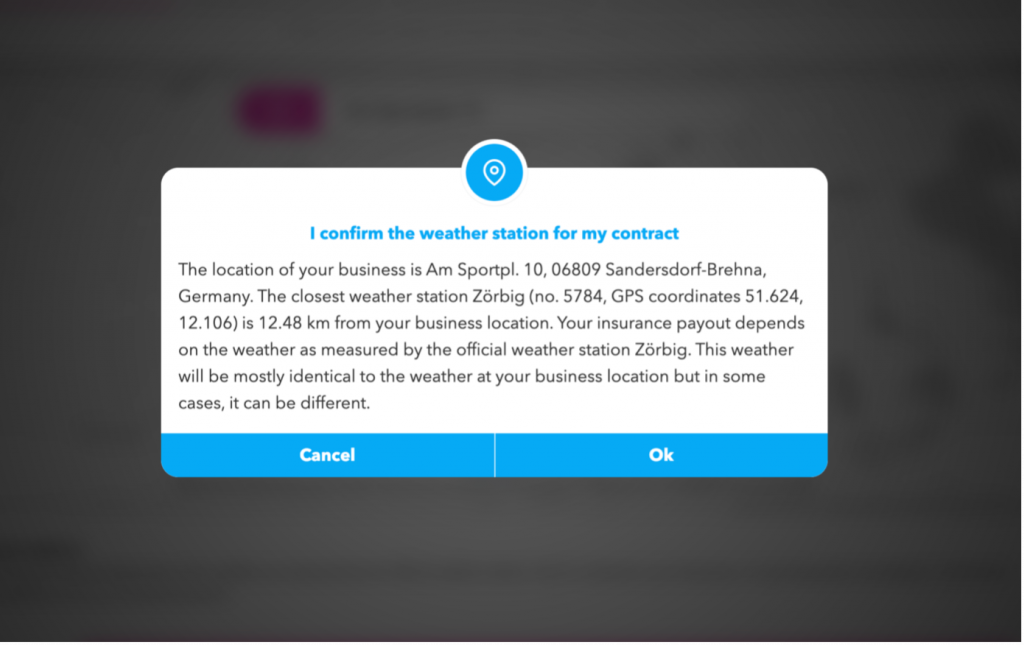 Finally, the farmer can customize the contract. He can indicate the number of days to be insured, the maximum payment amount and he can even see the weather history of the station. The insured see exactly how much he will receive if there are no rainy days (or one, two, three, etc.) We wanted a real customer experience with an easy-to-use environment that is above all transparent for the insured.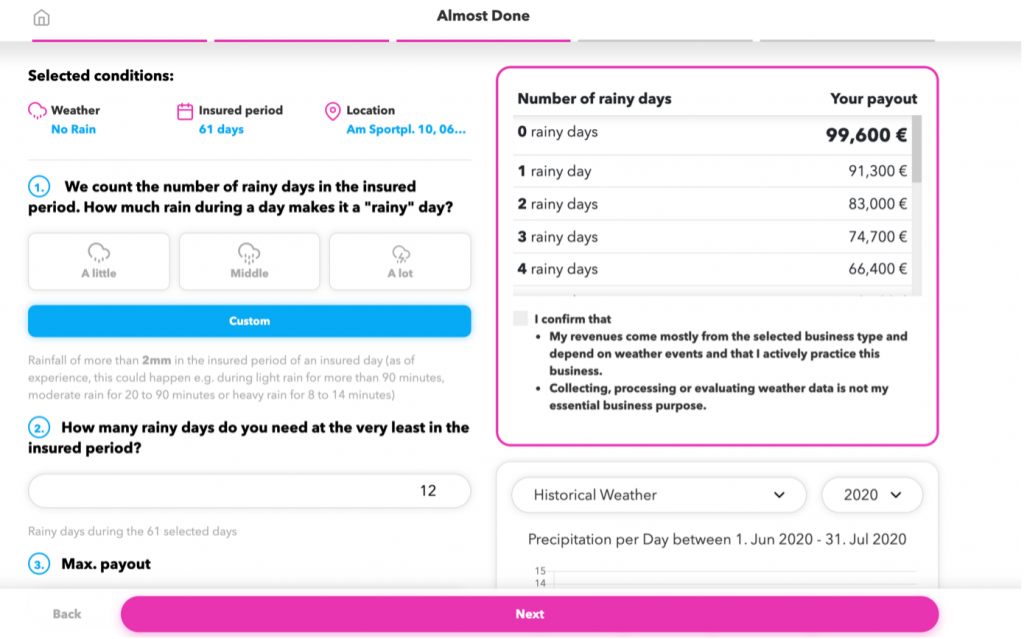 When you buy insurance, the most important moment for the policyholder is the customer experience when they make a claim. That's why we have a seamless journey. Every day, policyholders have access in their customer portal to the weather data of the station and see the impact on their contract.
In case of a claim, they automatically receive an email indicating they can make a claim and receive their compensation. With parametric insurance, the validation process is very simple: if the weather station says there was no precipitation you receive compensation. It's that simple!
How is your product different from more traditional insurance?
The weather risk model we built is a very complicated mathematical model. I think there are few companies in the world that have one like ours. We are the only ones who can apply it in real-time, with strict compliance with the legal regulations.
Our vision of insurance is very similar to yours, we want to be as transparent and clear as possible for our customers.
And also, our policyholders can customize their policy to create a product that perfectly fits their needs.
In just a few clicks, you can buy it through our platform, and you receive your insurance policy instantly. To achieve this, we have done a lot of testing and validation! Your Risk Squad read a lot of documentation before approving our model. We were very proud when we received it. It meant that we had built a model that works!
Why did you decide to work with Wakam?
I heard about you through different sources. First of all, our investors are Parisian, they know your management team and they told us about you (in a good way I assure you!). We were also part of an incubator with other insurtech founders. They told us about their relationship with you and the way you operate. We really liked it!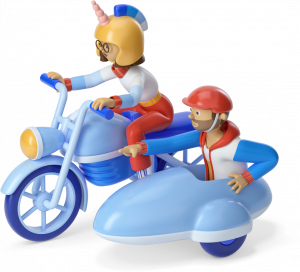 And what is very interesting for us is also your presence throughout Europe, because the problem we are addressing is not limited to Germany! In the future, we want to roll out this product in other countries. This was really a key point. With just a few clicks, you can purchase it via our platform, and you receive your insurance policy instantly.
How long did it take to validate the product?
Between the validation of the risk model and the technical and legal implementation, it took 5 months. I think we could have done it in less time if we hadn't had the Christmas break in the middle!
But at no time I had the impression that we were wasting time. Your teams did a tremendous job of checking absolutely everything to get the product launched in the best possible conditions.
If you had three words to illustrate our partnership?
I would say honesty, goal-oriented of the project and above all a lot of fun! I really enjoyed working with your team to implement the product.
Have you felt the effects of Covid-19 on your business?
Yes of course and especially on our insurance for outdoor events or restaurant owners. Due to the health situation, many concerts or festivals have been cancelled. But the situation is slowly improving.
Regarding our drought insurance, farmers were less affected by the pandemic because people need to eat every day! We were very lucky to find this product before the pandemic. It clearly saved our company.
What are the next challenges for Wetterheld?
This year, drought insurance has not been in great demand by farmers because of the weather conditions: there was heavy rain but no drought.
In fact, we want to offer a more complete package to farmers that would cover several weather risks such as heavy rains (which is not necessarily good for them either!)
The goal is also to attract the attention of outdoor event organizers. As I said, the sector is starting to recover. Now, they are more focused on the health risks than the weather risks. But when the industry picks up, they will see the value of insuring against rain.
And finally, we are also working on a more B2C vertical. We are looking at offering our services to individuals.
Do you plan to expand in Europe?
Yes, I spend time looking at opportunities outside of Germany. The problems we address go far beyond our borders. And since you have a license throughout Europe, it is necessary for us to attack new markets.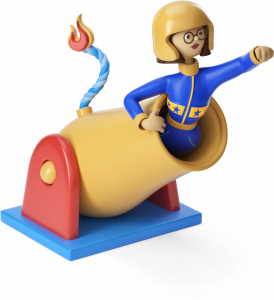 We are focusing on Poland at the moment. There is a strong demand for our drought and rain insurance. We will work on it during the next months. We will of course keep you informed!
Any final words?
Today, we see that extreme weather events are receiving more and more attention from the press, the public and also entrepreneurs. There is clearly a trend to take these risks more seriously and insure against them! Our products and technology are perfectly suited to this new demand. We are constantly evaluating the impact of the weather on the economy, businesses and all the areas in which we could provide a solution.
And finally, if there are any insurtechs that want to work with Wakam, go for it!
Interview conducted in July 2021.
Emilien Matte
Brand Content & Social Media Lead