Case study
GoodsID: "in goods we trust"
Loÿs de la Soudière came back to the co-development with Wakam of an innovative offer combining API, blockchain and customer experience. An insurance, fully integrated into the act of purchase guarantees the replacement of your engagement ring in case of theft. A unique, transparent offer, with a fully automated customer journey.
4 Febbraio 2021
6 minutes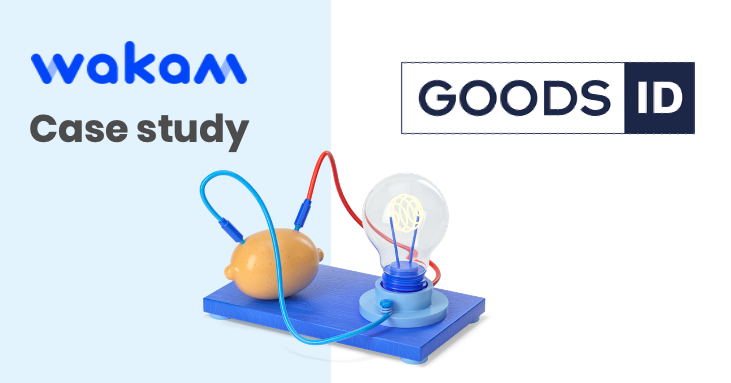 Hello Loÿs, could you tell us a little about GoodsID?
My partner Ghislain de Vergnette and I set up GoodsID in 2017. The idea was to develop a solution for ensuring security and traceability for high-value goods. Our model is B2B2C exclusively, providing luxury brands with an opportunity to easily issue digital authentication certificates, thereby heightening blockchain security for goods.
We see valuable goods as items designed to last, for which ownership is transferable, such as watches, bags, and rings.
A few months ago, GoodsID was also added to the French Register of Insurance Intermediaries (ORIAS) as a broker.
It is allowing us to offer insurance solutions embedded in digital certification, in addition to providing blockchain-based traceability and security for goods.
Our team now boasts five members, working out of our offices in Paris, and more recently, Switzerland.
What was the inspiration for GoodsID?
Four years ago, when I was brainstorming ideas for my next entrepreneurial adventure, I heard about blockchain and its potential.
At the time, I didn't know much about this technology. I spent three months working my way through all the conferences and meet-ups I could, gathering as much information as possible.
The technology absolutely blew me away! I was amazed by its business potential. It struck me then that whatever I did next had to somehow draw on this technology. But the question was how, exactly.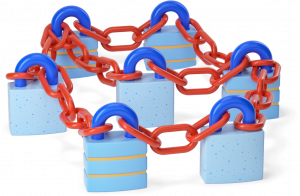 Over the next six months, my partner and I embarked on in-depth research to understand how we could harness this technology to create value. We combed through all the different applications this technology could have in various sectors such as health, luxury, and the car industry.
Step by step, we developed GoodsID into the company it is today. We spent three years developing our solution, before launching it in 2020.
Can you tell us more about your solution?
In basic terms, GoodsID is a solution that's ultra-easy to use for luxury brands, allowing them to issue dynamic digital certificates and store them within the blockchain. When you buy a luxury product today, you receive a certificate of authenticity on a piece of paper or plastic card. We now offer our clients the opportunity to go completely paperless, issuing digital certificates and storing them in a fully secure space.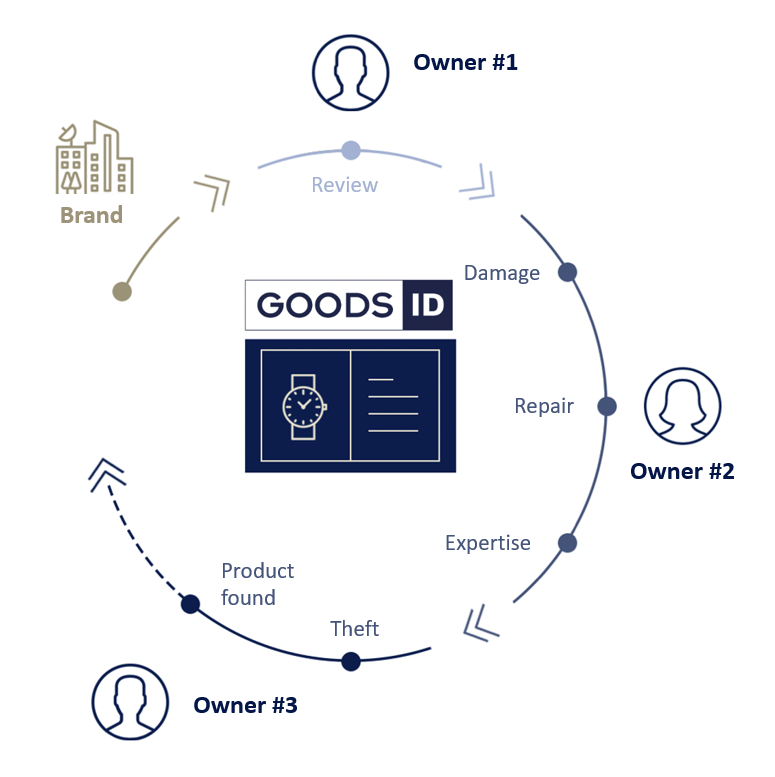 Does this mean they are dematerialized or digitized?
Dematerialized! We don't digitize the certificates. The end result isn't a PDF that gets stored in the blockchain, since PDFs are static. They can't be modified once they've been saved, and you can make copies of them, which makes them useless in proving ownership of valuable goods. What happens is the luxury brand generates a certain number of key data linked to the Item in question.
This data forms the digital certificate that we then render unique and tamper-proof via blockchain technology.
What stands out here is that the resulting digital certificates are completely dynamic, layering on additional data throughout the product's lifespan as and when key events occur: repairs, theft, transfer of ownership.
All the data we collect is anonymized. We don't collect private or personal data!
The advantage of these dynamic certificates is that you can also include various add-on services, such as allowing luxury brands to contact a product's successive owners anonymously and with ultra-personalized content that draws on the product they own. This is an opportunity for luxury brands to deepen the client experience, extending it out to encompass product experience, using the product as a platform for communication thanks to the digital certificate.
Why did GoodsID recently become an insurance broker?
In addition to specialized marketing services, we wanted to create add-on services within our solution itself. We had always believed that blockchain could serve as an incredible boon for the insurance sector, as the data is certified ahead of the claim.
When we spoke to jewelry brand Courbet, they were enthused by the idea of digital certificates as an innovative solution for consolidating product security. But they wanted to provide their customers with an additional high added-value service. We started looking into adding product insurance for aggravated theft* for engagement rings.
*theft that occurs with home invasion, violence, and threats
And that was when you met Olivier Jaillon?
That's right! Following on from our meeting with Courbet, we began looking around for a forward-thinking insurer prepared to take risks to work with us. Most seemed interested in our solution and the opportunity to gain a foothold in the luxury market. But none of our discussions led to anything concrete. The challenge we faced was that the product was completely new.
Whoever chose to work with us had to be prepared to build it up from scratch and take a gamble on us.
One day, I was at a France Digitale conference at which Olivier [Jaillon, CEO of Wakam] was speaking. His talk was pioneering and perfectly embodied the type of insurer I was looking for. At the end of the conference, I explained what we were doing, and what we were hoping to develop for one of our luxury clients: insurance embedded in our digital certificate, with ramped-up security thanks to blockchain.
Because of your long-standing experience in embedded insurance and blockchain, Olivier immediately grasped the full potential of offering this kind of insurance product in the luxury sector.
He put me in touch with Wakam's teams straight away, and then everything happened extremely fast. The teams were instantly on board with the idea and worked swiftly to start mapping out plans for co-developing this embedded insurance for jewellery. 
If you want to know more about what we've created with GoodsID:
What are the benefits of this tailor-made product for the end customer?
Courbet is passionate about delivering for its customers every time. Acquiring an engagement ring is a hugely important moment for their customers, and something that generally only ever happens once in a lifetime. For the customers receiving this insurance, everything is 100% transparent: the insurance is included upon purchase, and in the event of aggravated theft within two years of the ring being bought, Courbet promises to replace it with an identical ring.
The insurance policy and all the information related to the insurance are incorporated into Courbet's digital certificate, which the customer can access via their GoodsID account.
If their ring is stolen, customers are required to log the theft in their digital certificate. Then all they need to do next is upload their report. Job done. Once we've checked the report is valid, the digital certificate stored within the blockchain turns 'red', and becomes unusable. The rest of the process is fully automated: we send Courbet an alert, letting them know that the jewelry has been stolen, and that they need to start making a new piece.
As soon as the item is ready, the customer can collect it from the store.
For the customer, this is an incredible selling point, as the insurance doesn't cost them a penny: it's paid for by the jewellery brand. For Courbet, it's an excellent opportunity to support, reassure, and protect its customers at a difficult time for them, should their engagement ring indeed be stolen. Because the luxury market is so competitive, this type of high added-value service builds customer loyalty and raises the brand's profile as a desirable company. So if you're in the market for an engagement ring, we definitely recommend Courbet!
What three adjectives would you use to describe our partnership?
Trusting: you took a gamble on us, and you trusted us with leading the idea to success.
Innovative: your full-API approach, the technology, and the product are all ground-breaking! The entire process was automated via APIs, which results in an immensely powerful customer experience.
Friendly: working with you has always been a pleasure, and that's so important to me in business relationships. We're here to do business together, but if we can do that in an upbeat atmosphere, all the better!
What challenges lie ahead for GoodsID?
Our number-one goal for 2021 is to boost growth. Thanks to our partnership with Courbet, we're now in touch with other luxury brands looking to provide their customers with the same type of service.
We also want to accelerate sales of our insurance solution across other products, while offering new insurance products alongside this, such as breakdown repairs insurance for watches. And naturally, we're counting on Wakam to continue innovating with us, offering new products designed to benefit the end customer.
I hope to have more news to share with you in the coming weeks!
Interview conducted in January 2021.
Emilien Matte
Brand Content & Social Media Lead