Wakamees
Wakam Inside: Rudy Delouya
Each month we give the floor to Wakamees who make the company and work daily to enable impactful and transparent insurance.
7 May 2021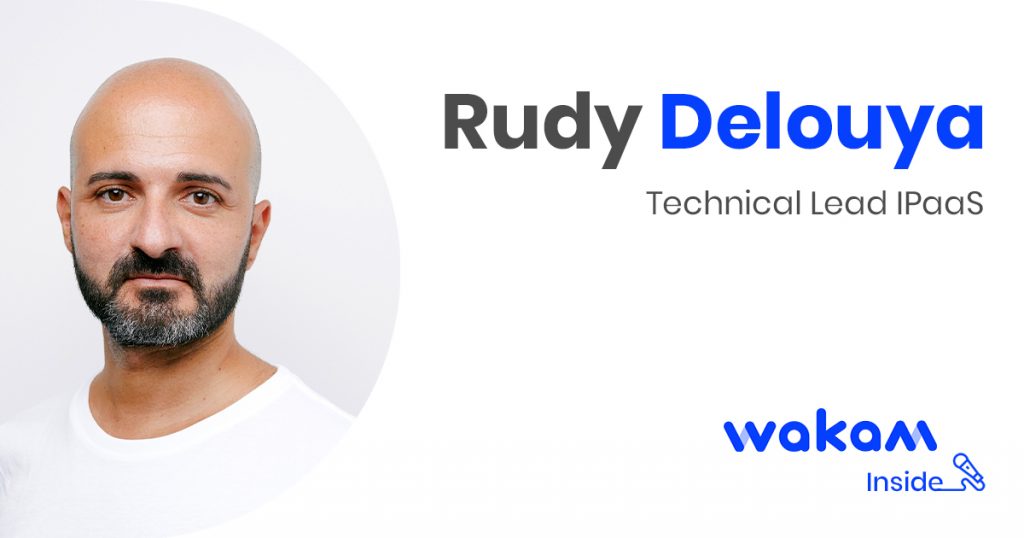 This month we are pleased to introduce Rudy Delouya: Technical Lead IPass. He joined Wakam as a freelancer in September 2019. Our Gyro Gearloose has had a thousand and one lives before finally settling down in April 2020 with us. Entrepreneur, video game creator and IoT enthusiast, he is never far from his soldering iron. With a lot of humility and serenity, he accepted to tell us about his career, his desires, and his daily life at Wakam.
Hello, could you introduce yourself?
Hello, my name is Rudy Delouya, I turned 40 years old (a few days ago) and I come from the world of data. I have worked for more than 10 years in Business Intelligence (BI), most of the time as a freelancer, in France but also in the United States and Spain. Step by step I evolved towards the world of big data, machine learning and even deep learning.
I have created several startups, the last of which developed a product to facilitate data scientists' lives in companies.
I learned a lot during this experience even though we were not able to sell the product. But it allowed me to discover the French startup ecosystem and everything that turns around Station F. It was very interesting.

I also have a little hobby on the side I do IoT. I make myself small circuits with processors. For example, I made a small system that waters my plant automatically as soon as there is no more moisture in the soil. I receive all the data on my phone, and I follow its evolution thanks to a small graph. As soon as I am under the limit, it waters my plant.
When did you join Wakam?
I started as a freelancer in September 2019 and became an intern in April 2020, right in the middle of the lockdown! I came here because I knew two former Wakamees I met in my previous jobs.
You are "Tech Lead IPaaS" but what does mean exactly?
I manage all the IoT and interface part of some projects such as the developer portal, our API portal, the subscription interfaces and more recently the Self-Service that we launched a few months ago.

I also worked on the connected device that we have in partnership with Sigfox and helped them to co-design the box. It's thanks to this small box that we plug into cars that we can offer usage-based insurance.
I must confess that I was a bit of an alien when I arrived with my soldering iron at the office (laughs)!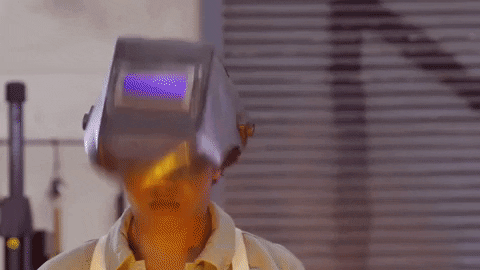 Can you explain your job to a 3-year-old child?
That's a very good question. I have a little girl, but I don't explain to her exactly what I'm doing so this will help me! I make tools to protect people while they're travelling by car or scooter for example.
Why did you decide to leave your freelancer status to join Wakam as a full-time Wakamee?
It's really the human spirit, the competence of the teams I've worked with and also the interest in the projects I lead. There is a field of possibilities that is enormous. We are really building and revolutionizing the insurance sector. I feel that I am an actor of this change and I love it.
My choice was also reinforced when I saw the way Wakam handled the Covid-19 crisis. Olivier Jaillon (Chief Executive & Enablement Officer of Wakam) immediately spoke to all of us when the health situation was not very good.
The company has always communicated a lot and tried to give us as much visibility as possible. The way it was handled really impressed me and I decided to go for it.
I was also realizing that since I had started freelancing at Wakam, I was no longer looking for the next project to work on. I was starting to feel good and to blossom.
What do you think about the insurance sector?
I think that today there is a perception of insurance that can be a bit biased. I've been working in the industry for many years.
It can be seen as dusty, not fun or hyper rigid! But, in reality, it's a sector that we need to protect ourselves in everyday life.
I really think it's becoming fun! There are a lot of innovations being made in the field and insurance is gradually becoming part of our daily lives.
Of course, insurers still have to make progress on certain points, particularly the customer experience. They need to be more transparent about what you're covered for. A customer must be able to insure with one click and, above all, be able to cancel with one click. The best experience is when the insurance is integrated directly into the product or service we use.
This is the case when you travel on a self-service scooter or with travel insurance that stops when your trip is over. It's transformations like these that will change the image of insurance. We need to make it easier to offer insurance.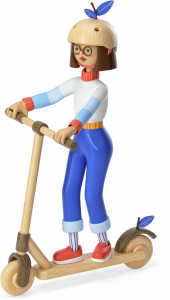 What does a typical week for you at Wakam look like?
I have a pretty moving agenda in fact! At the moment I'm managing different subjects like recruitment (pssst, we are hiring), I code quite a lot and there is also the project roadmap for 2021 to set up.
What are you working on right now?
The big topic that keeps me busy at the moment is the "insured" space in our Self-Service platform.
It allows distributors or e-retailers to create their insurance product and integrate it into their website or application in complete autonomy.
In this way, they can offer their customers an insured area where they can find all the information they need to know about their policy. They will also be able to declare a claim and of course to cancel their contract if they wish to do so.
Something that you are really proud that did at Wakam?
I think it's the IoT message processing system.
If you could add one thing to the offices?
A gym would be great!
If you had to describe the culture at Wakam, what would you say?
A strong sensitivity to innovation and new technologies.
Having already heard him speak at conferences, we feel that our CEO, Olivier Jaillon has a very sensitive techno fibre. These are subjects on which he is not afraid to test.
I also find that there is a real spirit of helping each other that is important. You will always find someone to unlock a problem or explore new topics with you. We're all very busy but we'll always make time to go help someone. Even if it doesn't impact us directly!
The objective for everyone remains the same: to make the company evolve and grow.
If you could change jobs, what would you do?
I'm very creative, I like to do a lot of things like creating video games, making movies or working on technological subjects. In my former startup, we had developed a door opening system thanks to the impression of your veins on your finger. If I had to change, I'd have to find a job that combines all that!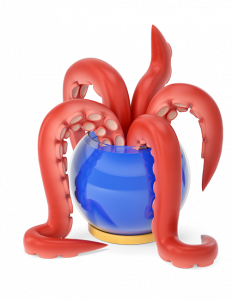 Wait, you've created video games?
Yes, I launched some little games at one time! Some were never published on the Apple Store and some are not anymore.
I had created a game called "Léon Le Caméléon"*, the design is very simple, a bit like a game on the Nintendo. It's a little chameleon that walks around and can catch flies. From time to time there is a falcon that comes to eat it and Léon must quickly hide against a wall by finding the right colour to hide.
(Note form the author: we want to play at "Léon Le Caméléon" !!*)
If you could switch places with someone for a day?
Elon Musk, when he will launch the first spaceship with people to go to Mars!
What advice(s) would you give Rudy when he was 25 years old?
This is not an easy one! I know I'm not perfect, but there are no mistakes I regret.
Whenever I have made choices in my career, I have always taken the time to think about the pros and cons.
There is not one choice that I particularly regret because they all brought me something. It still serves me today and if not, I'm sure it will serve me well in the future.
What is your favourite song/band?
I love listening to US Rap and Cuban salsa!
Your favourite restaurant next to the office?
A restaurant called: La Ginguette d'Angèle!
Any last word?
You have to embrace your geek side and not repress it!
Interviewed in December 2020.
Emilien Matte
Brand Content & Social Media Lead