Case study
Dattak, one mission: to protect against cyber risk
Read the interview of Charlotte Couallier, CEO and co-founder of Dattak and discover the story behind the innovative partnership with Wakam.
8 September 2022
5 minutes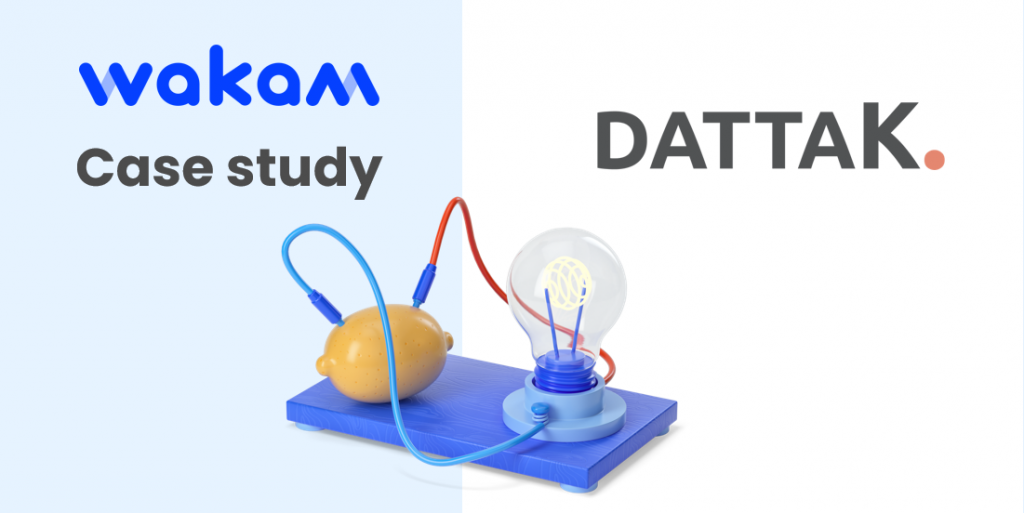 We chose Wakam, because we knew you had a global reach and the same agility abroad. I hope that we will be able to collaborate together on other countries.
We had the pleasure to welcome Charlotte Couallier, CEO and co-founder of Dattak, a young and innovative company in the cyber-security market. Together, we discussed the partnership between Wakam and Dattak, from the development of an insurance product to the construction of a simplified underwriting process, combining insurance and technological expertise.
The birth of Dattak
The idea of Dattak came from several observations:
A significant increase in cyber-attacks: there has been a fourfold increase in attacks in recent years, affecting one out of two companies.
The accelerated digitalization of companies since Covid-19 has unfortunately led to an increase in the level of exposure of companies.
Very few SMEs are insured against the risks of cyber-attacks despite these increasingly frequent threats, and this for a very simple reason: access to cyber insurance is a complex process, requiring to answer questionnaire of several dozen questions, sometimes very technical.
For Charlotte Couallier, the solution was obvious: create a comprehensive cyber insurance offer with the widest possible eligibility rate, by simplifying and automating the subscription form. The cyber security market benefits from a very low penetration rate of insurance, but with real needs. There was a real market to conquer.
With her two partners, Benoît Grouchko, a serial entrepreneur from the tech world, and Damien Damamme, an insurance specialist, the Dattak project was born.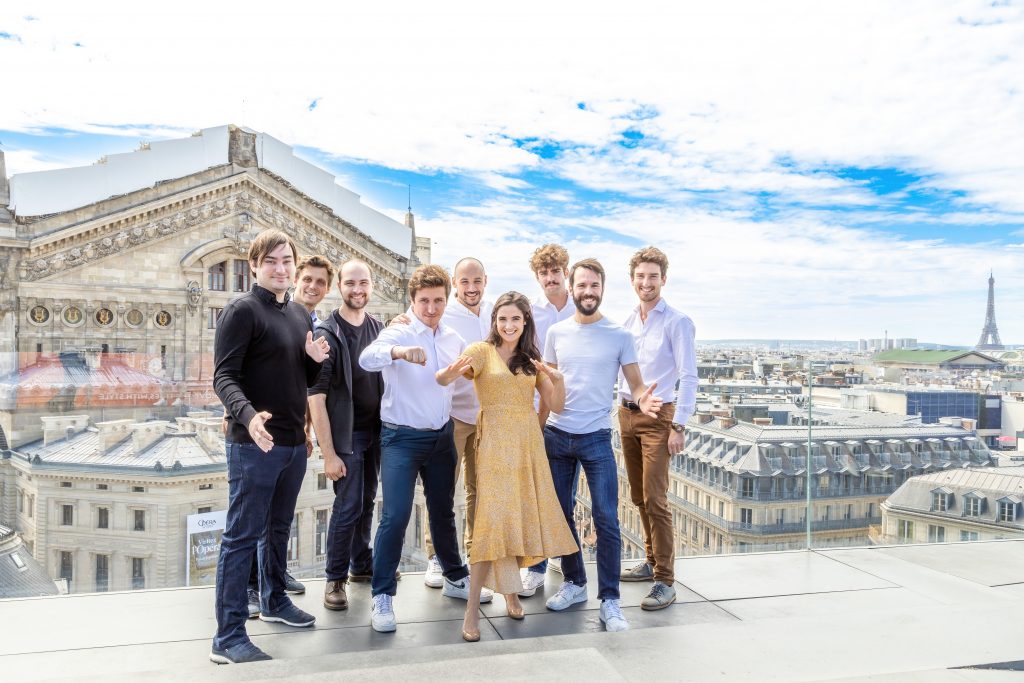 Key figures
How does it work?
For almost a year, Dattak has been developing a tool to measure the exposure and vulnerability of a company to a cyber-attack. Acting as a hacker, the scan will analyze all the Internet servers on which the company is connected. Then, intrusion tests are made in order to detect vulnerabilities or potential compromising data leaks. The company then obtains a cyber score, making it eligible or not for insurance.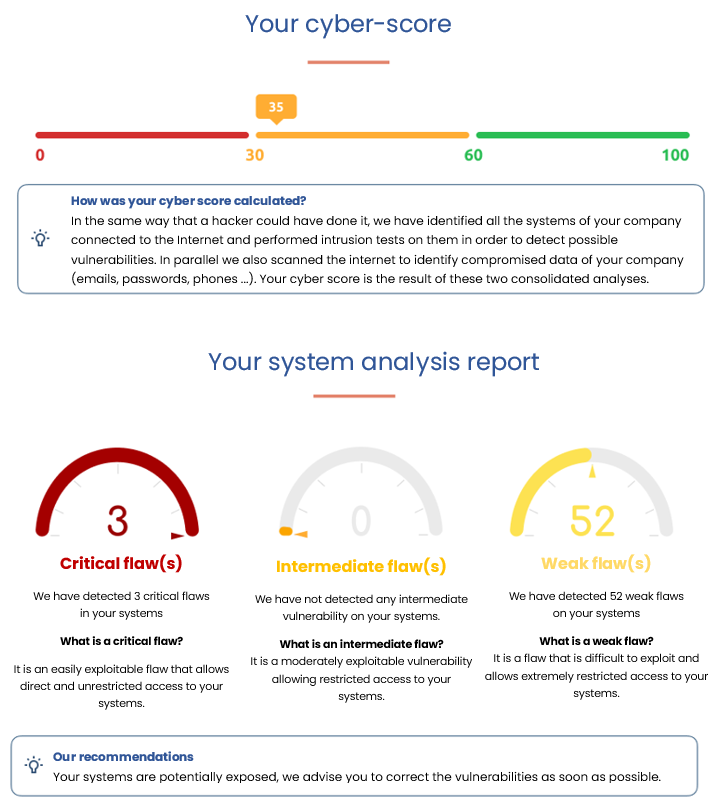 This scan is part of a 4-step underwriting process, developed with Wakam's teams to facilitate and improve access to cyber insurance. In just a few minutes, and thanks to the performance of the scan, it is therefore possible to instantly obtain a quote for an insurance. In addition, the Dattak platform generates a report to explain where the flaws are and what updates are necessary to protect the company as much as possible and to be able to benefit from an insurance later if the company is not directly eligible.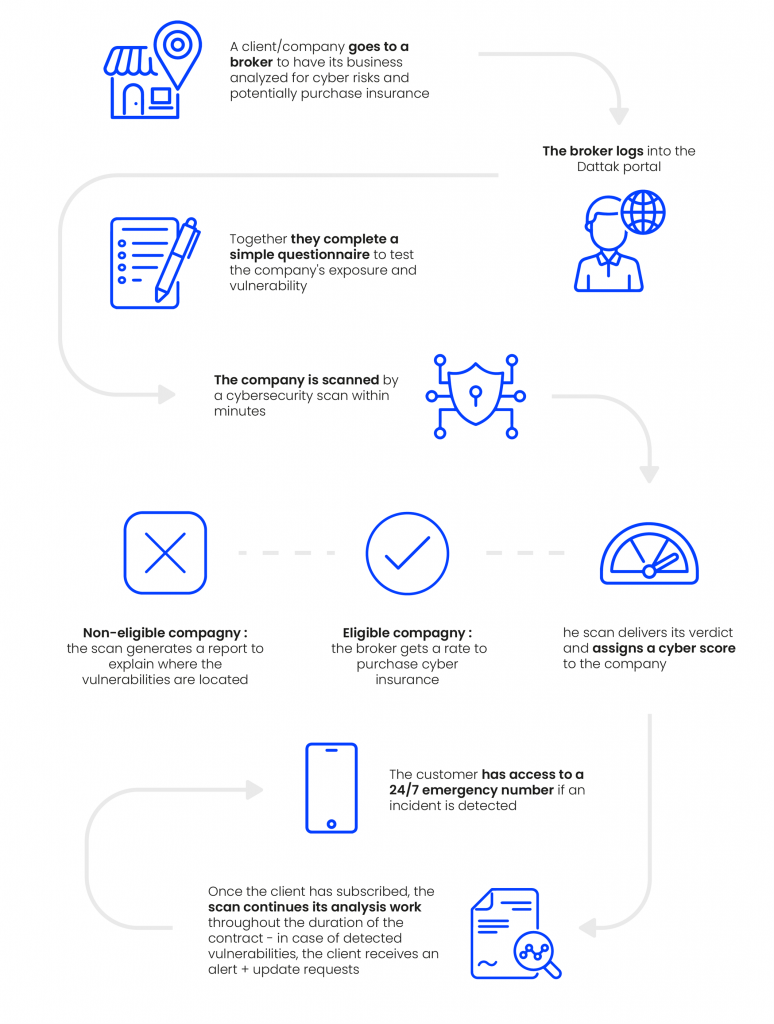 Dattak's strength: a unique value proposition
Dattak's added value compared to traditional players is this cybersecurity scan. While it is used at the time of subscription to analyze the company, it also monitors data throughout the duration of the contract. If new flaws or vulnerabilities are detected, either from customers or the systems they use, the company receives real-time alerts to take the necessary actions.
Dattak is also working on the development of a platform accessible to the end customer that will allow him to better understand what he needs to do to improve his cyber security such as updates or virtual patching. The platform will allow them to generate a comprehensive report on their risk governance.
Together with insurance, these two elements constitute the Dattak solution.
But what does cyber insurance actually mean?
Dattak has developed several packages with Wakam:
A very comprehensive formula that covers everything, including business interruption and ransom payment, but also cyber fraud.
A more essential formula, which covers assistance costs, data reconstitution and civil liability.
This essential package is innovative because very few companies currently offer it. It allows us to provide a service to very small businesses that are mainly looking for assistance and civil liability.
Dattak is also working with Inquest, the French leader in IT crisis management, to offer an emergency number, available 24/7, allowing customers to be accompanied by a cyber security expert following an attack. They will assign the best experts and coordinate the crisis management.
Dattak and Wakam: a common DNA allowing to release a product in 3 months
When Dattak was created, one of the main challenges was to find a risk carrier to build cyber insurance products together. Indeed, insurers being rather reluctant to cover this kind of risks because of the increase in attacks in the last few years, the idea of Dattak could only see the light of day thanks to an insurer who was not afraid to take risks!
For Charlotte Couallier, working with Wakam was an obvious choice. From her previous career at AXA, where many of her opportunities where in competition with Wakam, she knows the agility, innovation and responsiveness of Wakam's teams, but also their appetite for new technologies and new risks.
I was pleasantly surprised and I really appreciated the responsiveness, the availability, the commitment of the teams, the expertise – because you didn't have cyber products, but you had people who knew the risk very well. All of this allowed us to jointly release a product in a few months.
Raising awareness on the risks of cyber attacks
In addition to facilitating access to cyber security, Dattak wants to raise awareness among companies and their employees about the risks of cyber attacks. As these attacks are mainly caused by human errors, Dattak wants to develop e-learning training and phishing tests for its corporate clients, in co-branding with brokers. These trainings, free of charge, will help customers improve their cyber security and raise their level of alert to a potential attack.
The goal of these trainings is to include them in our offer, because it's a virtuous circle, and it generates fewer claims.
Today, this project of phishing tests is in its early stages, as the technological and economic challenge to develop them and include them in the premium is complex. Dattak is working to make these tests as realistic as possible so they can be available to customers quickly, thus reinforcing their level of cyber-security.
Three adjectives to describe the partnership
Commitment
Innovation
Tech driven
The challenges for Dattak
With a team of 15 people today, the challenges for Dattak are numerous:
Improving its cyber security platform for customers. This requires significant technological challenges.
To extend its coverage to brokers and make a maximum number of clients aware of the risks of cyber attacks.
To export internationally by working hand in hand with Wakam.
Bérangère
Operational Marketing Officer