Case study
Vilavi x Wakam: a trustworthy partnership
Every month, we give the floor to our partners who lead change in the insurance sector
8 Februar 2022
4 minutes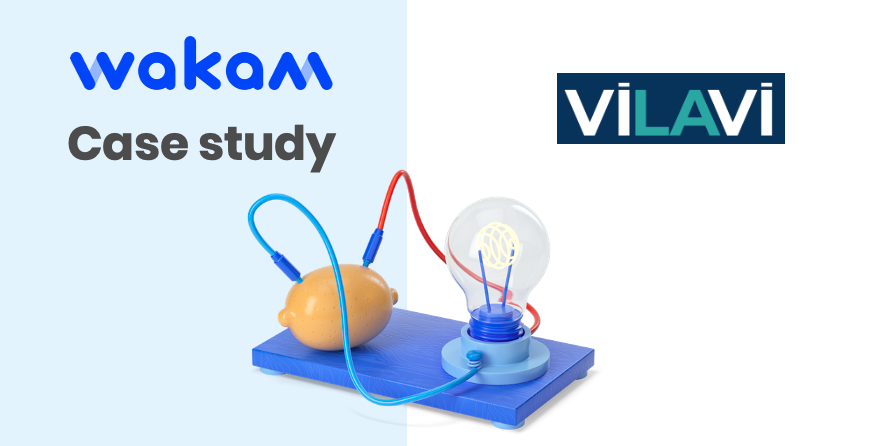 We sat down with David Guyonnet, Managing Director of the Vilavi Group (formerly Assu 2000). With more than 20 years of experience in the insurance sector, David came back to us on the history of Vilavi, its unique positioning and the partnership with Wakam that has lasted for more than 10 years.
Hello David, can you introduce us to Assu 2000?
Historically, Assu 2000 Group (now called Vilavi) includes four brokerage companies for individuals, plus a brokerage company for professionals and real estate credit brokerage companies. Each brand addresses a different market and target.
The name of the group "Assu 2000" came from our brokerage company for individuals, Assu 2000. We recently announced our name change. The Assu 2000 group has become Vilavi and groups our 11 commercial brands (including Assu 2000 for our brokerage company).
Key Figures
How is your company different from its competitors in the market?
First of all, by its presence on multiple distribution channels thanks to our four brokerage subsidiaries. This allows us to address different populations and to have a sufficiently large size to be little impacted by the competition. In addition, thanks to the mutualization of human and IT costs, we can "average" our pricing. You will not pay the best price on the market, but you will have a fixed cost over time with a good product in terms of guarantees.
Second, longevity and independence of the business. You will find (almost) no independent brokers today that are not owned by an investment fund.
And that makes a difference! Funds are buying more and more expensive and are looking to sell quickly and at a higher price!
This requires brokers to take medium or even short-term strategies. This can sometimes be to the detriment of their policyholders.
At Vilavi (formerly Assu 2000) we work in the long term. I refuse to implement short-term strategies. Everything we build must be made to last. And I think it is an asset! I often say this to my colleagues.
Society and our consumer habits are evolving. How do you respond to the new needs of policyholders?
The group does not have a pioneering DNA. But I think we are living with our time. We are closely monitoring changes in consumer usage and behaviour to adapt and respond to them. But I think that if this change is not mature, it is difficult to position ourselves on it. We must wait until it has been established for a long time before investing human and financial resources in it.
This is what I call living with our time: we're not creating the future but we're living in the present. The most is not being stuck in the past.
Wakam x Vilavi: a trustworthy partnership
We have a partnership of over 10 years based on trust.
There is now a certain consistency in your teams that allows you to be more reactive and to provide answers when they are needed. This has not always been the case and I have made this known. And you were able to react and correct what was wrong.
Today, we are in a B2B relationship that is above all human and based on trust. Between partners, I think we can say anything, but we have to be frank. The "maybe" is not allowed.
I think that being a partner is also knowing how to take risks together. It's the ability to trust each other. For me, that's what partnership is all about.
Trust is not about process or signing a contract. It's about people enjoying working together. Our teams work very well together, which also explains the longevity of our relationship.
In addition to trust, the partnership must allow for reciprocal learning, exchange of best practices or tools that you could use or vice versa. Sharing beyond the business on, for example, the implementation of your « work from home policy » in your company, etc.
I think that a partnership works like a couple. It's a relationship based on trust. And you have to work on it to make it work!
Products developed with Wakam
We are working together on bicycle and motorcycle products, which are still very traditional products, but we need them! Insurtechs are still far from having disrupted the entire market. And then we are working on more atypical products such as the resale guarantee.
Enabling more transparent and understandable insurance for the consumer
At Vilavi, we are committed to putting the essence of the broker's profession back in the center of our concerns.
We represent our customers, and we must seek the best possible response for them. We therefore need to have access to the best solutions and the best insurers! It is also our duty to be as educational and as clear as possible in what we sell.
This is like your commitment to clear language. We have decided to add an educational document to our products. This document presents the product in a simple and intelligible way.
How do you see the market in the coming years?
I think there will be big issues in the car market. Not so much in terms of usage, but more in terms of modernizing the car fleet.
The Government is doing a lot by prohibiting, for example, vehicles that are too polluting from driving. Old vehicles will no longer be able to circulate, and people will have to be helped to change their vehicles. I think that insurers and brokers have a role to play in this transition. We have to accompany our policyholders to help them find their way through the numerous aids that the Government can offer to buy a new car.
Interviewed in December 2021.
Emilien Matte
Communication & Content Strategist