Case study
Lovys, the next French unicorn?
7 Dezember 2021
7 minutes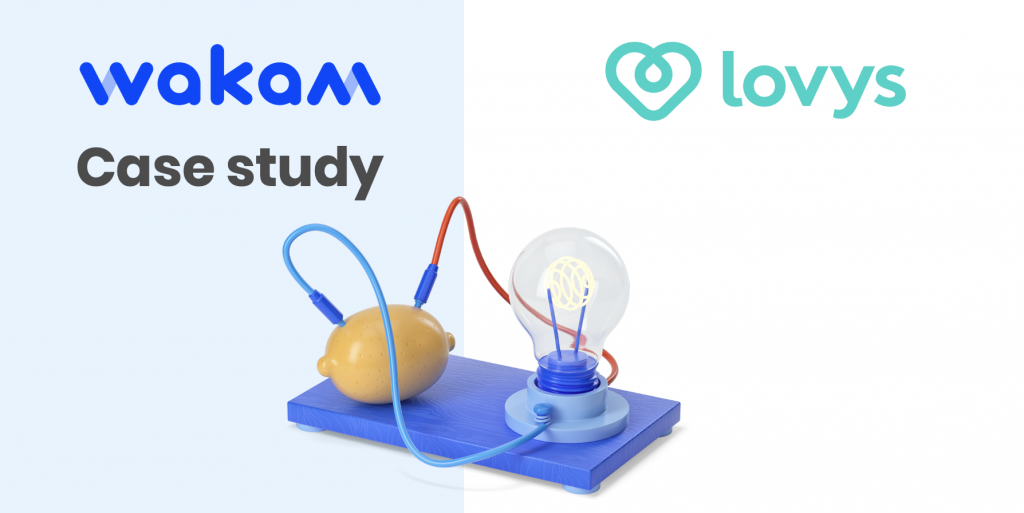 We sat down with Fabien Cazes, GM France of the French insurtech: Lovys. Fabien started his career in London as an investment banker. He has advised numerous insurers on M&A issues. Before joining Lovys, he was CEO France of an open banking fintech for which he launched the business in France and strongly contributed to its growth for two years. In May 2021, he decided to return to his first love (insurance) and took over the management of Lovys' activities in France.
A word from Franck Pivert, COO Revenue
At Wakam, we work with the players who are shaping the insurance of the future. Wakam was one of the very first insurance partners of Lovys and we have built a long term relationship with the ambition to accompany Lovys across Europe.
Hello Fabien, could you remind us of the story of Lovys?
from a simple observation: insurance has not yet entered the 21st century.
Insurance is a sector that is not very popular with consumers because it is often lacking in transparency. Before the creation of Lovys, there was no offer that allowed to have something simple, transparent, digital.
To get to this point, we had to completely reinvent the model. We couldn't simply take off-the-shelf products from insurers and sell them digitally. We didn't want to replace paper forms with digital ones. Our vision is to bring truly disruptive innovation to the market.
At Lovys, we really have this strong ambition to create a future European giant in multi-product insurance (home insurance, non-occupant homeowner insurance, car, pet insurance, and to protect your smartphone). In order to strengthen its pet insurance offer, Lovys has recently acquired another insurtech: Otherwise. To date, Lovys employs more than 100 people in three offices: France, Spain, and Portugal.
offices (France, Spain, Portugal)
products (home, car, pet & smartphone)
raised in Serie A since 2021
Rethinking the insurance value chain
At Lovys we have decided to start from scratch and put the customer at the centre of our decisions. Whether it is at the level of underwriting, management or claims, we want to totally rethink insurance. The same way you watch movies with Netflix or listen to music with Spotify in a simple and efficient way in one place. Why wouldn't we do that for insurance?
To subscribe to our offer, simply go to our website or our application and in less than 3 minutes you can subscribe to an home insurance offer for example. If you have another contract with another insurer, we take care of the cancellation.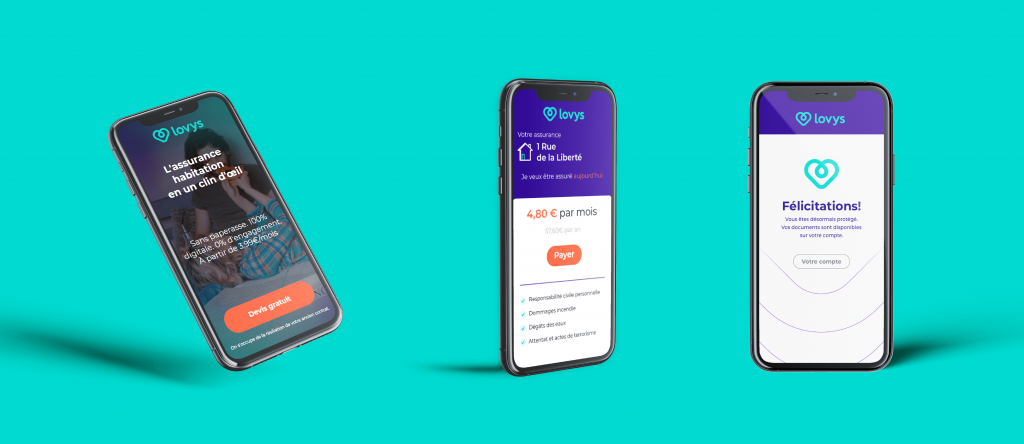 In just a few clicks the insured has the possibility to make his claim via his app or his computer. Our goal is to offer a simple product that allows consumers to focus on what they like to do in life. We don't want them to spend time managing the administrative side of things or finding out if they are well insured for a particular risk.
At Lovys, we have a "no asterisk policy"! We really want to make this as intelligible and transparent as possible for our clients.
We think there is a lot of value for the consumer in having all their products in one place with a simple interface. It is time to put an end to this heresy of having a car contract with insurer A and having your home contract with insurer B.
Shaping the insurance of the future with an innovative and flexible offer
We propose an offer with a monthly subscription and above all without commitment. This is a condition on which we have been very strict from the start. It is unthinkable today to be committed to your insurer for 12 months. You never know when the renewal will take place. And when it does, you usually have a two-week window during which you have to go to the post office and send a registered letter. It doesn't make sense anymore!
At Lovys, we have nothing to hide: if the consumer is not satisfied with our product, he is free to go elsewhere. In two clicks it is possible to cancel your insurance. It is important for us to restore the trust of the users regarding the insurance. We work very hard every day to make sure that people finally stop saying that this is a product that they don't like to buy and that they don't want to use.
Build a strong and long-term relationship with our customers…
Our audience remains relatively young, urban and connected. We are there to accompany them at every moment of their lives: when they buy an apartment and want to insure it. When they adopt a pet or when their children will have a smartphone. Lovys has the solution for them!
Tomorrow, we could very well imagine a "family" profile in the same way that there is a family offer for Spotify. You will then be able to insure your children and your spouse within the same application!
…by embodying strong values through its brand
Even if today we mainly target young people, we have adapted our communication by launching offline campaigns (subway and television) to make ourselves known to a different audience.
I am excited to realize that people like my parents who were previously digital-averse are more and more using their smartphones. They use it to go on WhatsApp, post pictures on Instagram or manage their accounts on online banks. We shouldn't exclude them because of their age. I think that technology becomes natural when it is simpler, easier to use.
Multi-product or single-product strategy?
When you launch an insurtech, there is always this philosophical debate of single or multi-product strategy. At Lovys, the multi-product strategy was clear from the start.
You need different insurance contracts to protect yourself against different risks. So, why should we focus on one offer? We have chosen to simplify the lives of our customers and those for all their insurances, hence the deliberate choice of multi-product. And beyond that, our vision is to reinvent insurance globally: we can't limit ourselves to one product. It would be a shame to reduce the scope of what we do. Because ultimately our recipe can be applied to all products.
At Lovys we follow the maxim "think global, act local". Think insurance globally and act locally. We start from the principle that it is difficult to conquer a new market without setting foot in it."
Thinking about insurance in a global and scalable way. These are the two key principles on which we decided to build Lovys. We have built our platform, our brand, and our products on this logic. Our teams and internal processes are also designed to adapt to all countries. That's why we opened offices in Spain and Portugal*.
*Lovys does not intend to stop there and plans to open new offices in more countries in 2022.
Could you tell us about the partnership with Wakam?
When we created our first insurance product, we did a market study to see which insurer we could turn to. The limit we set ourselves for the moment is not to carry the insurance risk ourselves. And very quickly, it was obvious that we had to work with you. Wakam was one of the first partners of Lovys and you allowed us to develop our vision of digital and global insurance. Wakam and Lovys share common values and a common DNA: to innovate at the service of the customer and to revolutionize the insurance industry.
We have had great success with the product we developed together (home insurance). We are delighted to be developing and continuing to imagine the insurance of tomorrow together.
I talk a lot with your teams about the development of new products and our joint international expansion. We challenge each other every day! We are delighted to have a partner who can accompany us throughout Europe.
For us, it is very interesting to have a partner like Wakam which has the capacity to accompany us over the long term. We have the same approach as with our investors: we are looking for partners capable of supporting our European development and sharing our vision of insurance.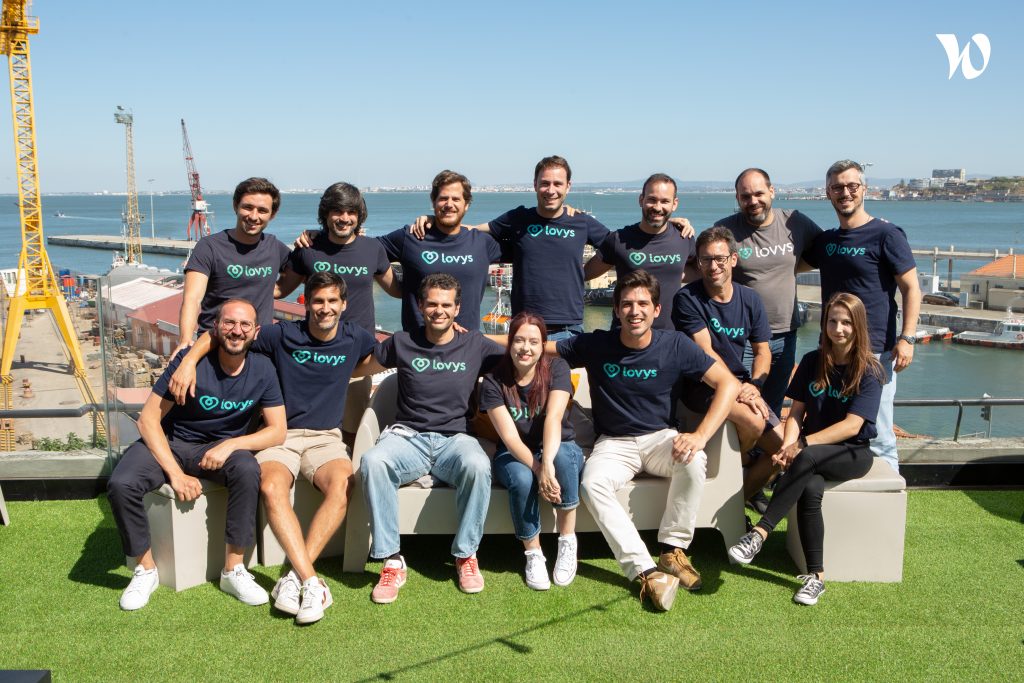 What do you think makes our partnership successful?
I think there are three strengths that you have traditional insurers don't necessarily have. First, I would mention the agility of your teams to move projects forward. With your teams, we really wanted to rethink the product based on both your experience and the difficulties encountered by users that we had identified.
Then your time-to-market is very short! In just a few weeks, we managed to launch our home insurance. But by combining our two areas of expertise, we save a lot of time.
And finally, I would say your technological DNA. We were looking for a player who shares our digital vision to distribute our products. Wakam has invested a lot in technology over the last few years with, for example, the development of your Play & Plug platform. All your products are accessible via API (which was not the case for all insurers).
We have seen your ability to reinvent yourself by positioning Wakam as one of the European leaders in the market by supporting numerous insurtechs.
What do you think of the insurance industry and the explosion of investments in insurtechs in the past months?
L'assurance était un peu en décalage par rapport à d'autres secteurs : celui des banques en ligne par exemple. . Insurance was a bit behind other sectors: online banking for example. But we feel that this gap is being drastically reduced. In the last few months, everything has accelerated with a lot of financing and a lot of publicity around it. I am quite convinced that we are going to see the same dynamic with the insurtechs that we saw with the neo-bank.
I think there will be at least two major B2C insurance players in Europe. We have seen it in other sectors, history will repeat itself. And Lovys has the means to be part of it.
I remain very optimistic about the success and sustainability of insurtechs. They bring real added value and disrupt the market along the entire value chain. Traditional players have realized the complementary nature of working with insurtechs. They are drastically accelerating the industry. This was not the case in the banking sector where neo-banks and banks were directly opposed.
Towards a more informed consumer?
This adoption is also going to be done thanks to the young generation, which is becoming more and more phobic to the administrative, to paper, to registered letters! We can imagine that the TikTok generation won't even understand why we have to send a paper to our insurance company. They will take us for dinosaurs if we don't change! I also think that these generations will rely less on their parents by taking over their insurance because it's easier. They are so used to consuming, comparing products directly on their smartphone. The consumer of tomorrow is more and more informed. They are less sensitive to marketing and greenwashing. They want real values, a strong culture. It's up to us to create products that will speak to them.
In a few years, we will look at our insurance contract as we now look at black and white television, as an archaeological relic.
Interviewed in October 2021
Emilien Matte
Brand Content & Social Media Lead